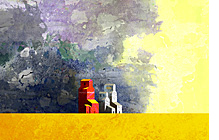 New Glicee Capability
With the acquisition of an Epson 2200 seven color ink jet printer, Bob has added the capability to produce digital prints on paper up to 13" x 60". The use of computer technology discourages some collectors who prefer "hand pulled" prints, but the digital medium offers results that simply cannot be achieved by hand methods and allows creation of striking original art within reach of even modest budgets. Visit the Giclee page for more details and available digital prints. Featured here is the latest creation, Prairie Storm.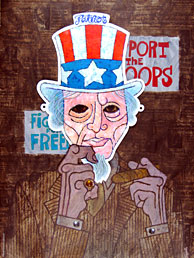 New in the Studio
Shown here is a new acrylic/collage, Masquerade: The Patriot, the first in the Masquerade series of social commentaries. These paintings will explore the many artificial concepts created by the economically and politically powerful and fostered among the middle and lower classes for their own benefit. The painting is in two layers and features a background of collaged newspaper articles and several three dimensional elements. Other subjects to be addressed include athletes and CEOs.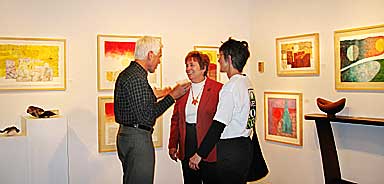 American Gallery Hosts Collage Show
American Gallery Hosted a November show, "Explorations in Collage." This was Bob's second show at American and featured new pieces from the Eternal City series and new experimental collage techniques. A lively reception was held on Friday, November 3.