Owens Corning Fabrication Centers are regional manufacturing facilities which process a complete range of the company's glass fiber products in any imaginable way: cutting into shapes, compressing into sheets, drilling, molding into forms, laminating onto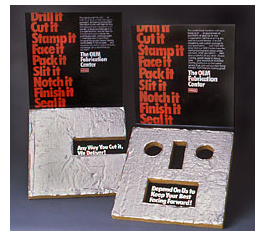 facings of virtually any material. These processed forms are used primarily as thermal or acoustic barriers in products such as autos, appliances, tools, equipment and machinery. The parts are generally OEM, and the target market includes manufacturers in a number of different industries.
When we were asked to promote these centers, direct mail was our first option, since the targets could be easily isolated (engineers and engineering management at manufacturers in relevant industries) and numbered only in the hundreds. There were also good lists for all target industries.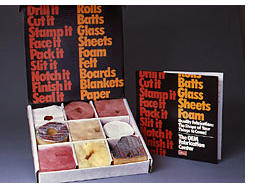 The target list was small and the possible return for each target high, so a relatively high unit cost was approved for the mailers.
Since the targets were engineers, who like to touch and feel, we used actual products in custom shipping cartons. The dimensionality also had considerably greater impact than a paper brochure at the receiving end. The first two mailers were teasers, each with a shaped and faced glass fiber product shipped in a carton. The third mailer had nine different products, each processed in a different way, in an egg crate interior and included a brochure with the complete story. The graphics on the inside lid of the mailers featured a bold list of products and processes the centers could provide.




Katie Cappellini's first run for public office was in Sylvania, a heavily Republican suburb, where she successfully took on the establishment to land a seat on City Council. Running without party affiliation, her message had to carry the day, and the aggressive theme we created for her, "Rock the Boat," was so successful that voters gave her a wide margin of victory over her Republican rival.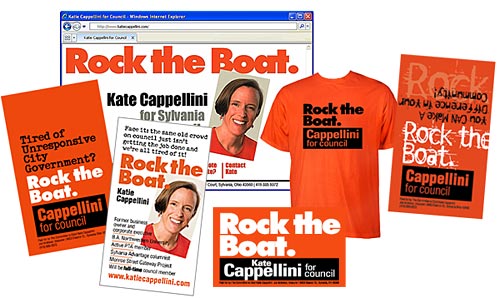 For starters, the bright orange campaign color was very unusual for a political campaign and stood out easily from the advertising of the other candidates. Her campaign promotion included T-shirt handouts, flyers, yard signs, newspaper ads and a series of direct mail postcards targeting different issues on which City Council was not making progress. In addition, we created a web site to tell her story and showcase her columns as a regular editorial writer for the Sylvania Advantage.
We also created a viral marketing program for teens who were new voters, which included a MySpace page, mailers, T shirts and flyers with edgy typography to appeal to that demographic. She had a high profile with this segment and her message of "Rock the Boat" was a perfect anti-establishment vehicle for this age group. A teen garage band, "The Boat Rockers," was formed and played at her events. Her victory was so solid that she was unopposed at the next election.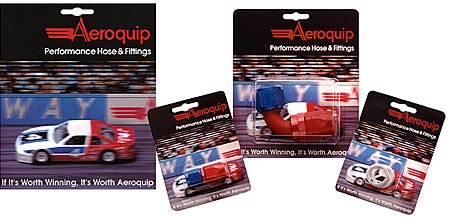 The Aeroquip Corporation relies heavily on the NASCAR racing program to promote its line of "performance" hose and fittings, and when we were asked to design a new line of clamshell pegboard packaging, we stayed within the metaphor, using racing photography as a background on the card hangers.
When we discovered the cost of shooting a real numbered car with an identifiable driver, we realized we would have to go generic. A mockup grandstand (with an Aeroquip logo conveniently evident) was created as a background, and a Matchbox car hand-painted in Aeroquip colors was pulled across in front of it with a string (which was edited out of the shot later). The camera panned with the car, creating a blur of the grandstand and creating just enough realistic motion on the car itself that no one, including the client, realized that it wasn't a real race or a real car! The photo (royalty-free, of course) was such a hit that it was used in advertising and many publications.



With the acquisition of new resins and coatings technology to add to their industrial glass fiber reinforcement, Owens Corning had the total package of matrices and reinforcements for the composites industry. They were ready to talk about their position as a supplier in the advanced composites market.
We produced this 20' trade show exhibit and appeared at several major composites shows on the west coast. Featuring end products with their materials in bath fixtures, recreational equipment and military armor, the company began to position itself as a major player by promoting their "expanding composite capabilities."
This was one of dozens of major trade show exhibits we have produced for use around the country by Owens Corning, Owens-Illinois, Champion Spark Plug, Atkins & Pearce and other clients.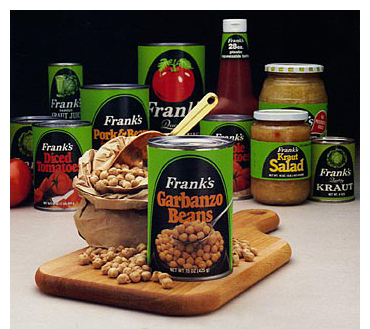 The Fremont Company, in Fremont, Ohio, is the world's largest packer of kraut. They can, bottle or bag a broad variety of beans, tomatoes and tomato products as well. They produce three brands: SnowFloss, Frank's and Wautauga, which supply different geographic regions from Wisconsin to North Carolina.
After several years, we finally talked them into redesigning their outdated packaging. Frank's two color cans, in particular, needed a face lift (see original can at far right). We brightened their signature "cabbage green" into lime green and replaced ancient woodcut illustrations of cabbages with high quality product photos in full color using modern chef's utensils in the shot where possible. We also modernized the typography, matching type color with the color of the product inside.
By retaining the essential color and familiar black half oval, we found no drop-off in sales to previous customers, but experienced a big boost in new buyers, thanks to the richer and much more appetizing photography.